Eye Hospital "Luxor"
About us
Specialized Eye Hospital for Active Treatment Luxor Ltd was established in 2004 in Plovdiv. We are licensed by the Ministry of Health. Our scope of activity includes diagnostics, treatment and surgery of eye diseases, as well as scientific work. Eye Clinic Luxor – Plovdiv performs laser correction of nearsightedness, farsightedness and astigmatism with the latest, precise and safe technology.
The hospital is specialized in surgical treatment of diseases of the anterior segment of the eye – laser vision correction, cataract, glaucoma, pediatric eye diseases, surgery of lids and lacrimal apparatus, facial esthetics. In 2008 the Clinic introduces quality management system and is certified with ISO 9001: 2008, thus meeting all the applicable European standards. We are accredited for the maximum period of five years with excellent score for the overall medical service..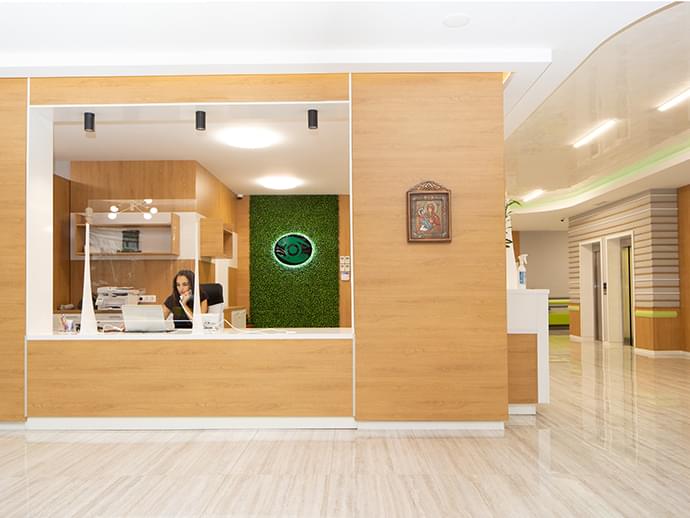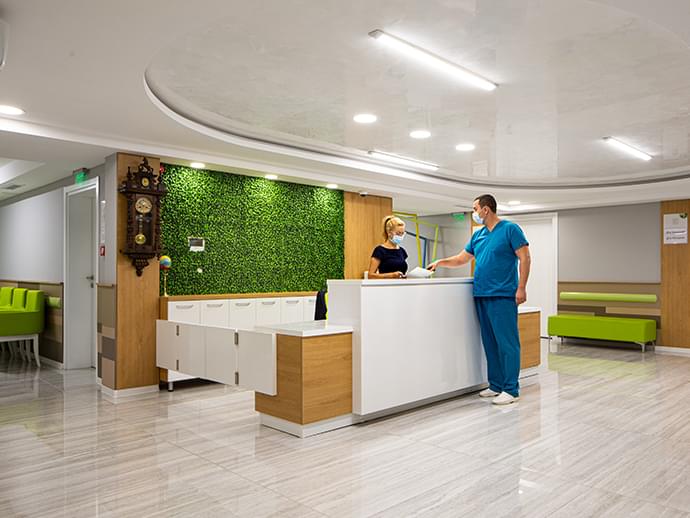 On the premises of Eye Clinic Luxor – Plovdiv, there are 16 doctor's offices for diagnostics and treatment of eye diseases, 4 surgery rooms equipped with cutting-edge technology from leading ophthalmological companies from America and Europe. The Clinic has 25 rooms for resting and accommodation after surgeries of anterior and posterior eye segment. Patients have access to wireless internet.
Eye Clinic Luxor combines modern interior, latest technologies and dedicated experts with long experience in different areas of the ophthalmology, who with their high competence, maximum precision and responsibility improve the vision of their patients. More than 30 000 patients trust our professionalism each year.
In 2008 the Clinic started working with laser eye correction technology, used by Dr Dimitar Taskov and his team to provide many people with normal vision. Over the years, the laser technology in the Clinic is constantly upgraded and improved, and today we work with Alcon LenSx Laser System and Carl-Zeiss MEL 90 Excimer Laser – the latest laser equipment.
Eye Clinic Luxor is part of the group of eye hospitals, which includes Specialized Eye Hospital for Active Treatment – SEHAT Luxor, Plovdiv and SEHAT Dr Taskov, Targovishte. SEHAT Dr Taskov was established in 2008 in the town of Targovishte, as it is successor of Medical Center Dr Taskov, established in 1998 by Dr Dimitar Taskov. The building of SEHAT Dr Taskov has 4 modern surgery rooms, 7 outpatient offices and 50 hospital beds. It is equipped with the latest technology for diagnostics and treatment of eye diseases. The hospital is given excellent accreditation score for overall medical service.
Activities
Main activities
Bloodless and sutureless cataract surgery through minimal incision (2.2 mm) with implantation of state-of-the-art intraocular lenses
Laser correction of nearsightedness, farsightedness, astigmatism
Microsurgery of the eye
Laser therapy for retinal diseases, glaucoma and secondary cataract
Treatment of pediatric eye diseases, strabismus
Esthetic facial and eyelid surgeries
Vision diagnostics
The examination rooms of Medical Center Luxor are equipped with state-of-the-art visual diagnostic equipment. All of them have biomicroscope, AutoRefractor-Keratometer, tonometer, ophthalmoscope and projector / digital chart for measurement of visual acuity.
Biomicroscope - a device for examination of anterior and posterior (using special ophthalmic lenses) eye segment
AutoRefractor-Keratometer – a device used to measure the dioptric power of the eye and the curvature of the cornea
Tonometer – intraocular pressure measuring device
Ophthalmoscope – device, which studies the posterior segment (fundus) of the eye
Projector / Digital chart – the device projects eye chart to examine the patient's vision
Goldmann three-mirror lens – a lens for detailed examination of the peripheral portions of the retina and the anterior chamber angle
Specialized vision diagnostics
Humphrey Field Analyzer (Carl-Zeiss) – computer perimeter method for study of the peripheral vision. Very useful for diagnosis and monitoring of glaucoma, tumor processes, diseases of the optic nerve, etc.
VISUCAM 500 (Carl-Zeiss) – fundus camera producing color images of the eye fundus(fluorescein angiography - FA). The system ensures effective diagnosis and monitoring of a wide range of typical eye conditions, such as macular degeneration, glaucoma, and diabetic retinopathy. It has an integrated autofluorescence diagnostic function for a non-contrast examination of the condition of the retinal pigment epithelium.
Cirrus 5000 (Carl-Zeiss) – optical coherence tomograph (OCT). This is a device for contactless imaging diagnostics of diseases of the retina, the optic nerve, etc. A high-resolution image is produced by computer, which gives an accurate idea of the spatial location of the pathological changes.
IOL-Master 700 (Carl-Zeiss) – device for rapid and accurate biometry – calculation of the intraocular lenses. It has software built-in precision mathematical formulas for the calculation.
ATLAS (Carl-Zeiss) – corneal topography system, which produces color map of the cornea detecting any unevenness on its surface and measuring its refractive power at each point.
WASCA (Wavefront Aberration Supported Custom Ablation) by Carl-Zeiss – weavfront analysis unit that prepares a three-dimensional color map of the eye that is unique to each patient. This device provides important information when preparing an individual treatment plan for laser vision correction.
SP-1P (Topcon) - a specular microscope. The device analyses the most inner cell layer of the cornea - the endothelium. It is used for diagnostics and follow up of corneal diseases - corneal degnerations and dystrophies /Fuchs' dystrophy, cornea guttata, etc./ as well as when other ocular diseases affect the cornea /glaucoma, uveitis, etc./. The specular microscope is quite useful for preoperative analysis and planning of intraocular surgery.
Plusoptix – pediatric refractometer designed to detect refractive anomalies at very early age. Vision diagnostics can be performed on very young children, as all they need to do is look at the camera in the shape of a toy. Light and sound effects help keeping the attention of the young patient. The study is done relatively quickly and without contact.
OcuScan (Alcon) – device, which measures the corneal thickness and the intraocular lenses with ultrasound.
B-ultrasound (Lightmed) – ultrasound diagnostic tool. Echography is widely used in the diagnosis of various pathological processes in the eye, particularly valuable in opaque ocular media: vitreous hemorrhages, retinal detachment, tumors, choroidal detachment, foreign bodies, etc.